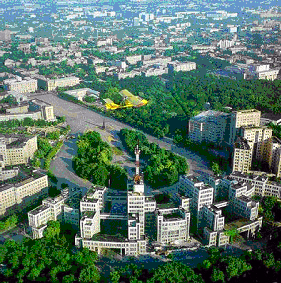 The Conference will take place at V. N. Karazin Kharkiv National University, Kharkiv, Ukraine.
Located in the eastern part of Ukraine, Kharkiv has quite a lot to offer to visitors, and the weather at the end of June is usually favorable for sightseeing. It is the second city of Ukraine with the population of about 1.5 million.
Convenient and good-quality accommodation is available in hotels near the University. For young participants some rooms in the students hostel will be provided.
Kharkiv has direct air and train connection with a number of foreign countries. Also, there exists regular train and bus connection with the main Ukrainian international airport Borispol (Kyiv).
At the moment, no visa is required for citizens of the USA, Schengen and the NIS countries.
Now there are more than 40 higher education and 30 research institutions in Kharkiv. But V. N. Karazin Kharkiv National University, without reserve, occupies a peculiar place among them. With its 200-years history, it is the oldest University in Ukraine with deep traditions and dynamic present. Chemistry is taught in the University from the very first day of its existence, and it was within its walls that the very first course of lectures on physical chemistry was introduced by Professor Nikolai Beketov as early as in 1865.